Serving America's Farmers & Ranchers for 60+ years
Contact our experienced personnel, we're ready to help!
About Stroud National Agency, Inc.
Stroud National Agency, Inc. got its start as Stroud Crop Insurance, which the late Steve L. Stroud founded in his hometown of Weatherford, Oklahoma in 1961.
Thanks to the grit and determination of Steve L. and his staff, Stroud Crop Insurance rose from humble roots in western Oklahoma to become one of the largest multi-peril crop insurance companies in the United States.
Having long enjoyed vacationing in Ruidoso, New Mexico, Steve L. decided to move the company to the mountains in the early 1990s. As a sign of the commitment of his employees, almost all of his Weatherford-based staff made the transition with him.
In the early 2000s, Steve L. recognized the winds of change sweeping across the crop insurance market and converted his operation into a managing general agency (MGA) focused on farm and ranch property and liability. That MGA was Stroud National Agency, Inc.
Around that same time Steve L's son Steve B. moved to Ruidoso from Lubbock, Texas, where he had been handling loss adjustments and national production efforts for Stroud National. Over the years, Steve B. remained involved with Stroud National while also running a local property and casualty insurance agency in Ruidoso and Carrizozo, New Mexico for a number of years.
Steve B. began leading Stroud National in 2019. Under his leadership the team at Stroud National has a strong appreciation for the agency's past and remains committed to serving our independent agents throughout the midwestern, southwestern, and western United States for generations to come.
About the Stroud Family
Stroud National Agency, Inc. is a second-generation family company, and it would be hard to understand its history and trajectory without also understanding the Stroud family's roots in the land.
Their involvement in the ag world dates to at least the Land Run of 1892 when J.W. Stroud, father of Steve L. Stroud and grandfather of Steve B. Stroud, staked a claim to land south of what is now Weatherford, Oklahoma.
Steve L. grew up working the land claimed by J.W., ran wheat harvesting crews that worked their way from Texas all the way north to Canada and owned ranches in Oklahoma, Kansas, Nebraska, New Mexico, and Saskatchewan.
As is common in farming and ranching families, Steve L. roped Steve B. into those pursuits and the family business from an early age. This instilled in Steve B. a profound appreciation for the land and the people who work it. While Steve B.'s sisters didn't follow him into the family business, his late sister, Deborah, transformed a lifelong love of horses into a successful career as an animal mortality insurance agent; his sister Leslie and her family have farmed family land near Weatherford, Oklahoma for over 3 decades; and his sister Vickie and her husband own land outside of Oklahoma City.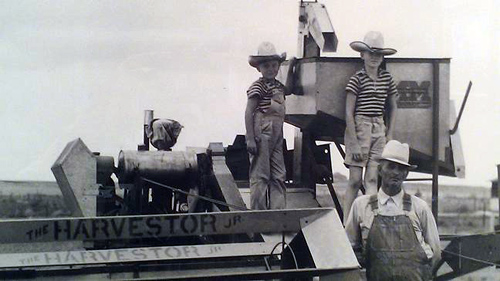 J. W. Stroud, father of our late founder, Steve L. Stroud, purchased a brand-new Minneapolis Moline combine in 1938. The new combine did the work of what had previously been a crew of 14. J. W. decided the header should be extended by 3 feet and had that done before he had harvested the first bushel of grain. The manufacturer of the combine, Minneapolis Moline, heard of this addition to the header and came to the farm and took this picture. They printed the story in their monthly Minneapolis Moline magazine. Steve L. Stroud is the young boy on the left and his brother, J.R., is on the right.