About Stroud National Agency, Inc.
Serving the insurance needs of the American Farmer and Rancher for more than 60 years.
Through a network of independent insurance agencies, Stroud services states throughout the Midwest, Southwest, and Western United States. By placing coverage through top rated insurers including Travelers, Liberty Mutual Insurance Group, Mid America Risk Managers, and Aegis; we stand behind a strong commitment to quality products and first rate service.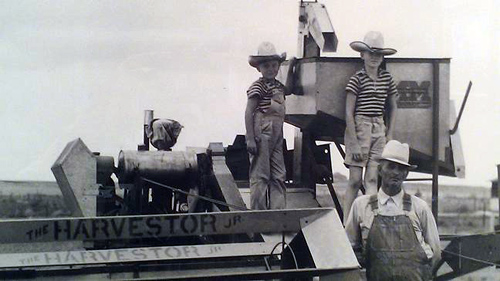 The History of Stroud
Mr. Stroud
J. W. Stroud, father of our President and founder of Stroud National Agency, Steve Stroud, purchased a brand new Minneapolis Moline combine in 1938. The combine replaced the threshing machine seen in the background. It took a crew of 14 men to do the work that could be done using the combine. J. W. decided the header should be extended by 3 feet and had that done before he had harvested the first bushel of grain. The company, Minneapolis Moline, heard of this addition to the header and came to the farm and took this picture. They printed the story, as related above, in their monthly, Minneapolis Moline magazine. Steve Stroud is the young boy on the left and his brother, J.R. is on the right.